The Craziest Idea of My Life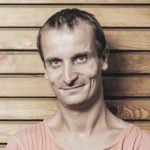 I've always liked hotels. You just get there & everybody awaits your orders. Non-Stop. And you disappear as quickly as that, without need to wash dishes or make up bed. And then – everything changes after our kids are born.
I have published this article on a travel & camping blog GuruCamper that I run for many years as an outlet for my life related ideas and travel experiences.